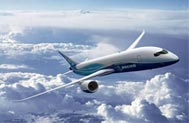 Easylink is a leading int'l logistics provider in South China. Approved by Ministry of Communications,P.R.China as "Class A" forwarding company, Easylink was founded in Shenzhen,the logistics hub of South China in 2008 and with home base in China, providing logistics service to int'l trade partners.
With advantageous resources and expertise in logistics industry,Easylink suppports customers to cost down overall logistics budget by best optimizing their logistics procedure. Easylink occupied dominant position in some specific trade / areas and cooperatate with customers to create value,thus ultimately enhance competitiveness.
Easy Link, Link Your Business!